Friends,
It was exactly one year ago today that I resigned as United States Attorney for Rhode Island.
During the nearly eight years that I served as U.S. Attorney under President Obama, I believed that the work we were doing was critically important to the people of Rhode Island. So when President Trump told me last March that my work for the people of this state was finished, I decided that it wasn't. I decided to run for Attorney General, to continue that important work.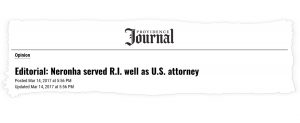 Since last year, I've spoken with Rhode Islanders all over the state. The concerns are many, and well placed. Public corruption. Violent crime and gun safety. The opioid crisis. Consumer protection. Immigration. Health care. Environmental protection. Cybercrime.
I've been asked what I would do as Attorney General, about these and other issues. And part of my answer has been, "Look at my track record, because for the past twenty years, as a state and federal prosecutor, I've had one client – the people of the State of Rhode Island."
As U.S. Attorney, I made public corruption our top priority, and we brought case after case against politicians who violated their oath, including a city mayor, three town councilmen, the Speaker of the House, and the House Finance Chair. That work needs to continue, not just because politicians ought to do what's right, but because when they don't, it has a real, negative impact on our economy. No one wants to do business in a state that's for sale.
When I was U.S. Attorney, we fought the opioid crisis by prosecuting major heroin/fentanyl trafficking rings, and worked with our prevention partners to raise awareness, hosting town halls all over the state and speaking with over 10,000 high school students about how they can help.
As United States Attorney, we combated violent crime by focusing on those who truly drive it, while recognizing that prevention and re-entry are just as important. I'll fight for that kind of criminal justice system as Attorney General, and for common sense ways to enhance gun safety.
As Attorney General, I'll bring the kinds of cases we brought when I was U.S. Attorney to recover wasted taxpayer money, protect consumers, protect the environment, and enforce civil rights.
Equally important is the next Attorney General's vision for the Office. Here's mine.
The Office of Attorney General must exercise smart, independent judgment. It must be an advocate for all Rhode Islanders. It must be a great partner with others, public and private, to build a safer, more resilient Rhode Island. It must be accessible to, and engaged with, all of the communities and constituencies we serve.
Thank you again for your support of the campaign, in so many ways. I look forward to connecting again soon!
Peter